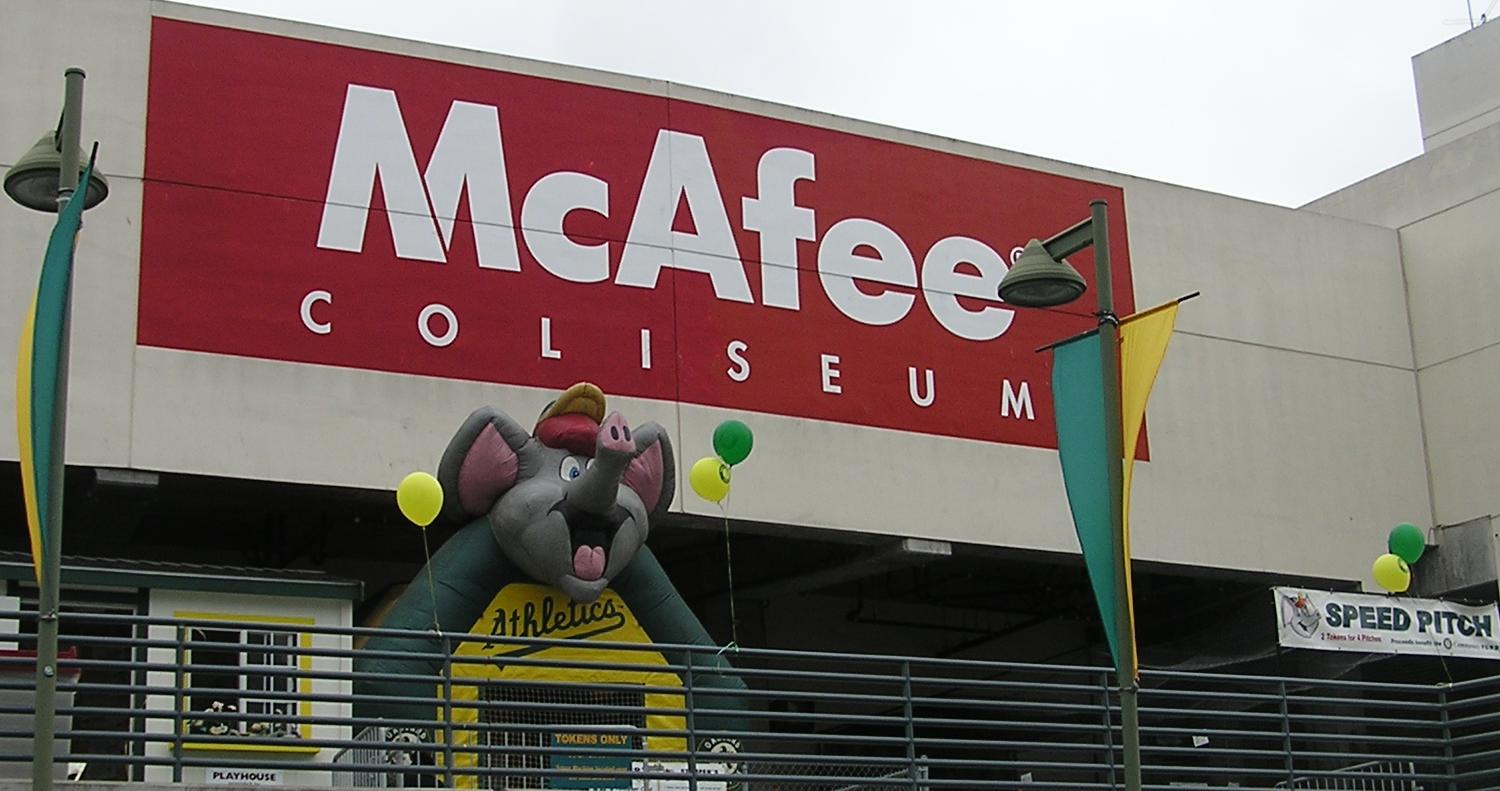 TEAM ::: OAKLAND A'S
LOCATION ::: OAKLAND, CALIFORNIA
MY FIRST VISIT ::: AUGUST 5, 2007
OPPONENT ::: LOS ANGELES ANGELS OF ANAHEIM
MLB STADIUM RANK ::: 22 of 40
FORMERLY KNOWN AS :::
NETWORK ASSOCIATES COLISEUM
McAFEE COLISEUM
RATINGS
BALLFIELD ::: A+
SCOREBOARD :::: C
FOOD ::: B
FACILITIES ::: B-
MASCOT ::: A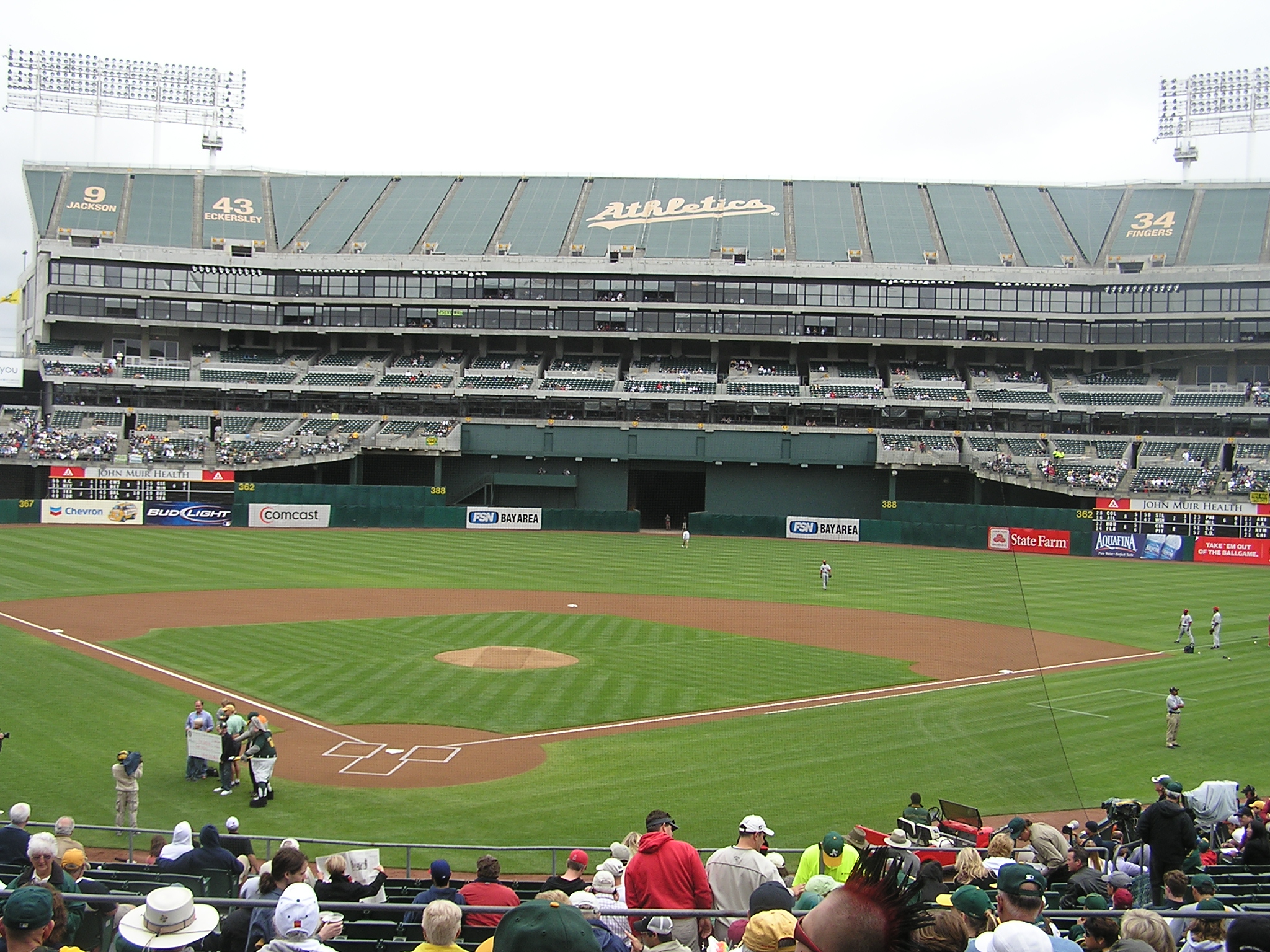 MY TAKE ON THE PARK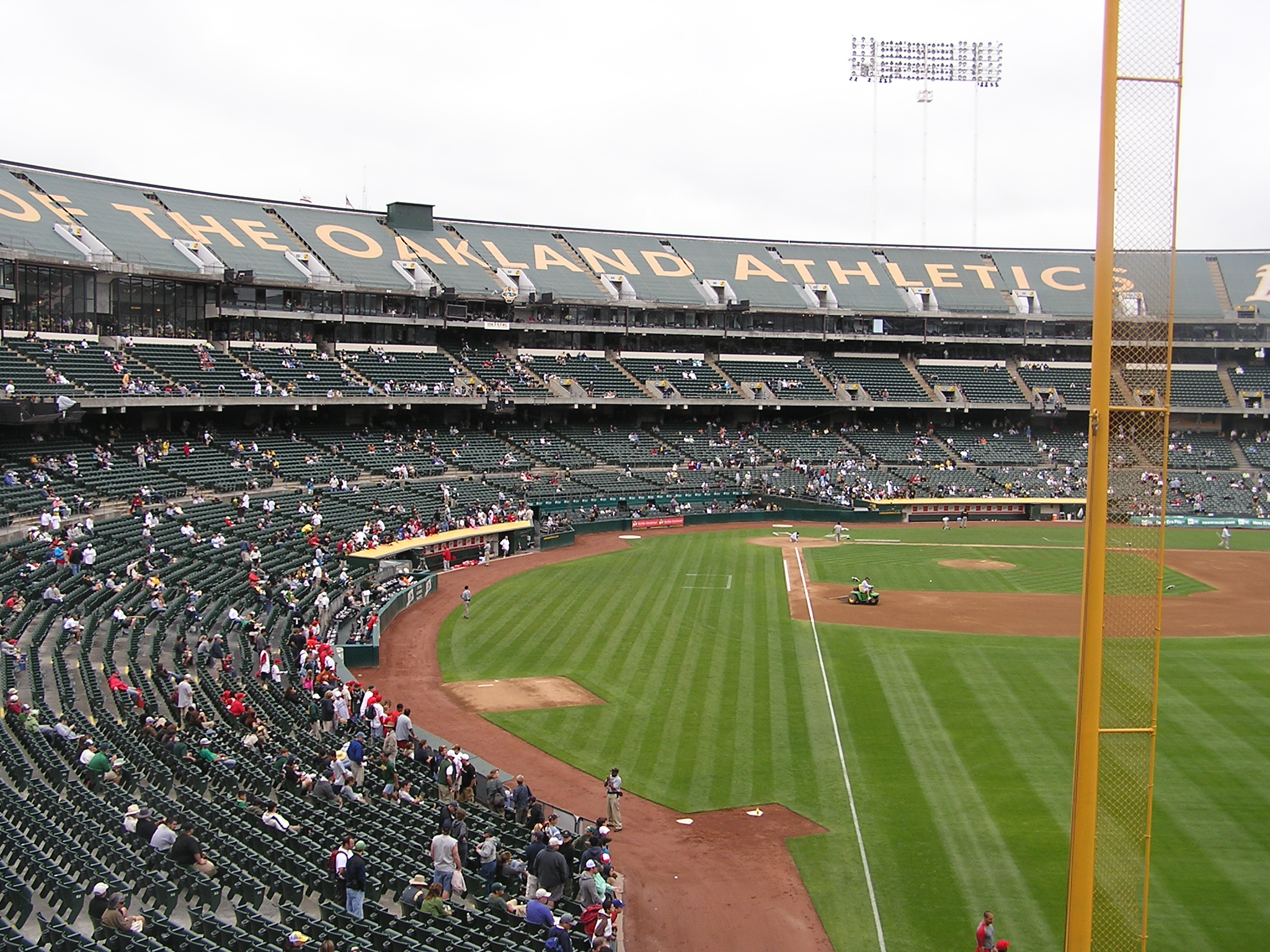 THERE ARE A FEW PLACES THAT CONSISTENTLY GET CRITICIZED BY FANS AND MEDIA. SOME OF THEM ARE SO BAD THEY MAKE YOU WONDER WHY YOU WOULD EVEN WANT TO ATTEND A GAME THERE. MCAFEE COLISEUM IS ONE OF THOSE PLACES, THE FOUL TERRITORY AND THE ADDITIONAL CENTER FIELD SECTION ARE CONSTANT AREAS OF CRITICISM. THE MUSIC HOWEVER, WHICH IS PLAYED DURING THE GAME, IS NEVER CRITICIZED AND SOME MAY EVEN SAY THAT IS THE BEST REASON TO SHOW UP.
I HAVE TO SAY, OAKLAND DOES A VERY GOOD JOB OF MAKING A BIG COLISEUM FEEL JUST LIKE A SMALL PARK MAKING FOR AN ENJOYABLE EXPERIENCE.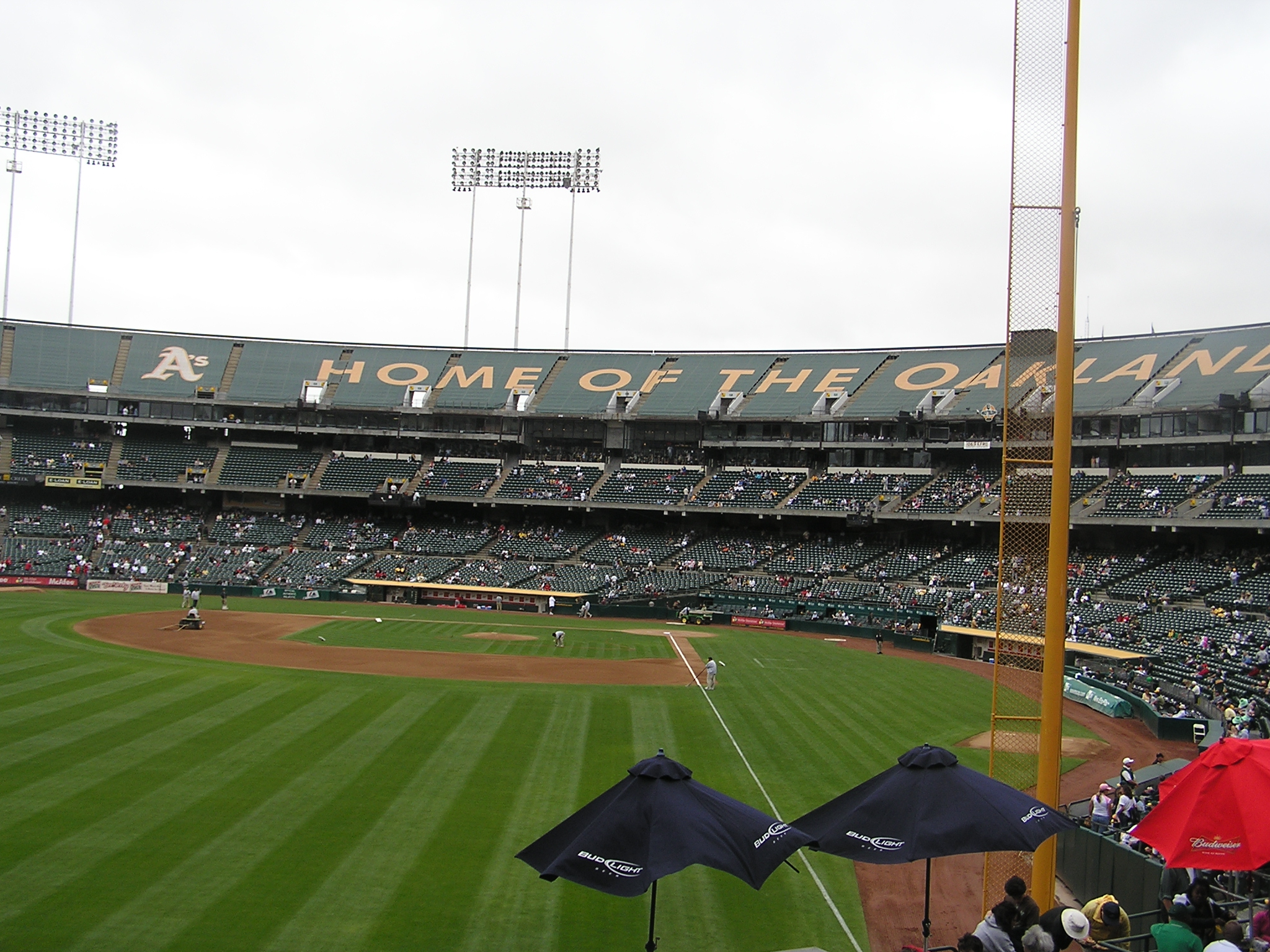 THE MCAFEE COLISEUM IS CONVIENIENTLY LOCATED RIGHT OFF I-880, WITH QUITE A FEW ENTRANCES LESS THAN A ¼ MILE AFTER THE EXIT. IN 2007 PARKING WAS PLENTIFUL BUT AT $15, I AM THINKING THEY WANT YOU TO TAKE THE B.A.R.T. TO THE GAME. PROBLEM IS, THERE DIDN'T SEEM TO BE ANY SHORTAGE OF ENTRANCES INTO THE LOT, HOWEVER, LEAVING THE GAME THERE ONLY SEEMED TO BE ONE EXIT FOR A GOOD SIZED SUNDAY AFTERNOON CROWD.

SPEAKING OF TAKING THE B.A.R.T., THERE IS A STOP RIGHT AT THE COLISEUM AND RAMP BUT TAKING THE TRAIN WOULD TAKE AWAY AN EXPERIENCE I HAVEN'T SEEN SINCE MILWAUKEE.
TAILGATING IS VERY BIG HERE, CONSIDERING I WENT ON A SUNDAY, IT HAD A FOOTBALL FEEL TO THE PLACE. PEOPLE WERE EVEN TOSSING FOOTBALLS AROUND IN THE PARKING LOT.
THERE DOESN'T SEEM TO BE A MAIN ENTRANCE TO THE PARK, JUST A SERIES OF

ALLEY WAYS

MARKED AS GATES A-D WITH AMUSEMENT TYPE GATES UP TO HANDLE THE BAG CHECK LINES. ONCE APPROVED, INTO THE

DARK ALLEY WAY

WHERE MCAFEE SHOWS IT'S AGE BY LEAVING YOU IN A NARROW DARK CONCOURSE. THE CONCOURSE AREA IS FILLED WITH CONCESSIONS.

IF YOU CANNOT FIND SOMETHING TO EAT IN

OAKLAND

, YOU JUST AREN'T HUNGRY.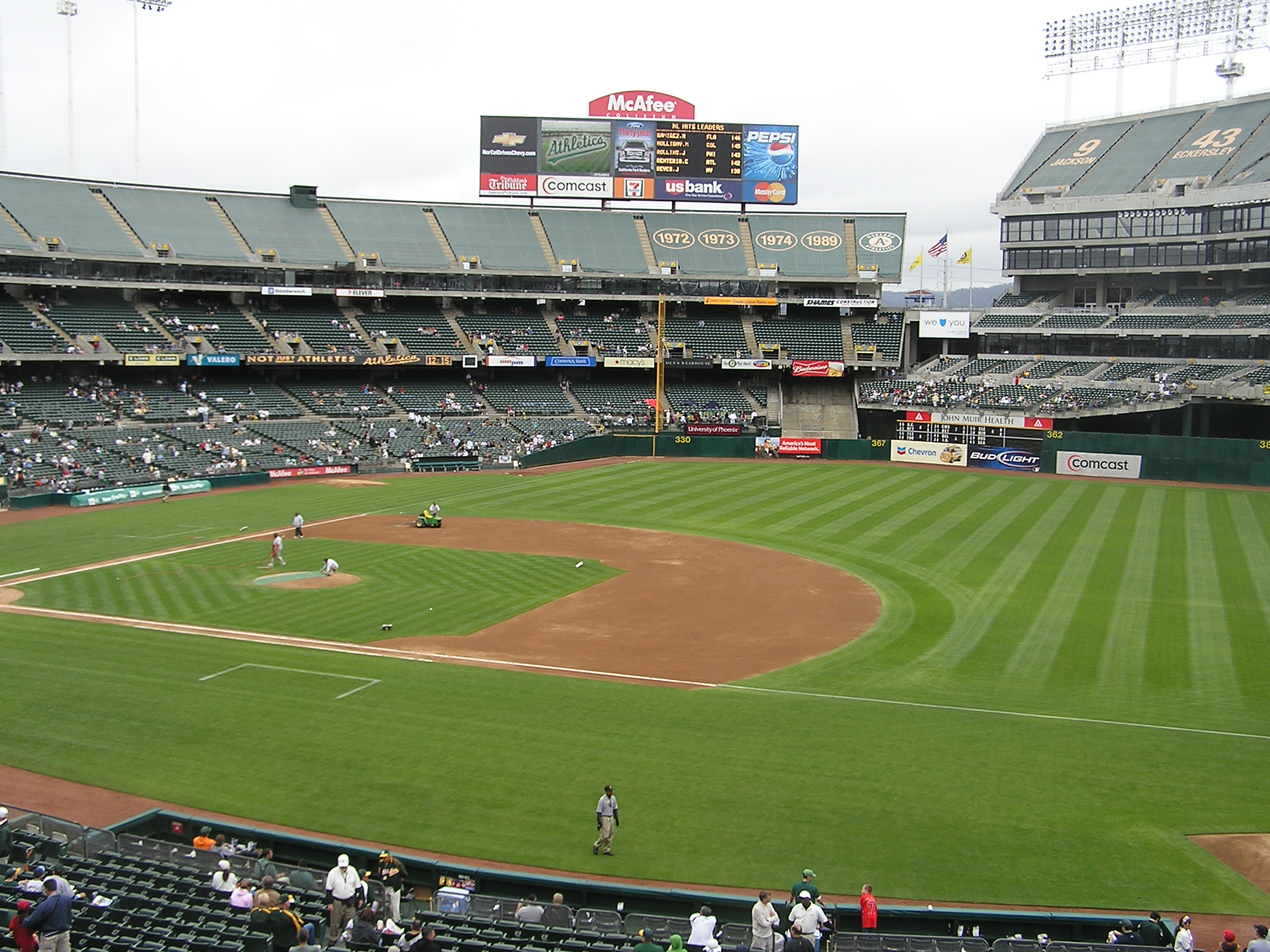 UPON ENTERING THE FIELD AREA, IT IS REALLY AMAZING AT JUST HOW MUCH FOUL TERRITORY THERE IS HERE. THAT BEING SAID, SIT BEHIND HOME PLATE AND YOU ARE AT THE SAME VANTAGE POINT AS ANY OTHER PARK. I HAVE TO SAY, I SAW THE BALL SO MUCH BETTER HERE THAN I DID AT ANY OTHER PARK I HAVE EVER
VISITED. THE GREEN SEATS AND COVERED AREAS MAKE FOR A VERY GOOD BACKDROP TO SEE THE BALL. EITHER THAT OR I JUST ATTENDED ONE OF THE 3 OVERCAST GAMES IN THE 2007 OAKLAND SEASON.
THE GAME IS HANDLED WELL HERE, THE SCORE BOARDS ARE NOT IN THE MOST CONVENIENT PLACES BUT THE SOUND SYSTEM IS REALLY JUST THAT GOOD. THE THING I DO LIKE ABOUT THE SCORE BOARD IS YOU CAN SEE ONE OF THEM FROM I-880. WHILE THE GAME IS GOING ON, YOU CAN SIT IN TRAFFIC AND TAKE A GLANCE AT THE BOARD, BIG FAN OF THAT.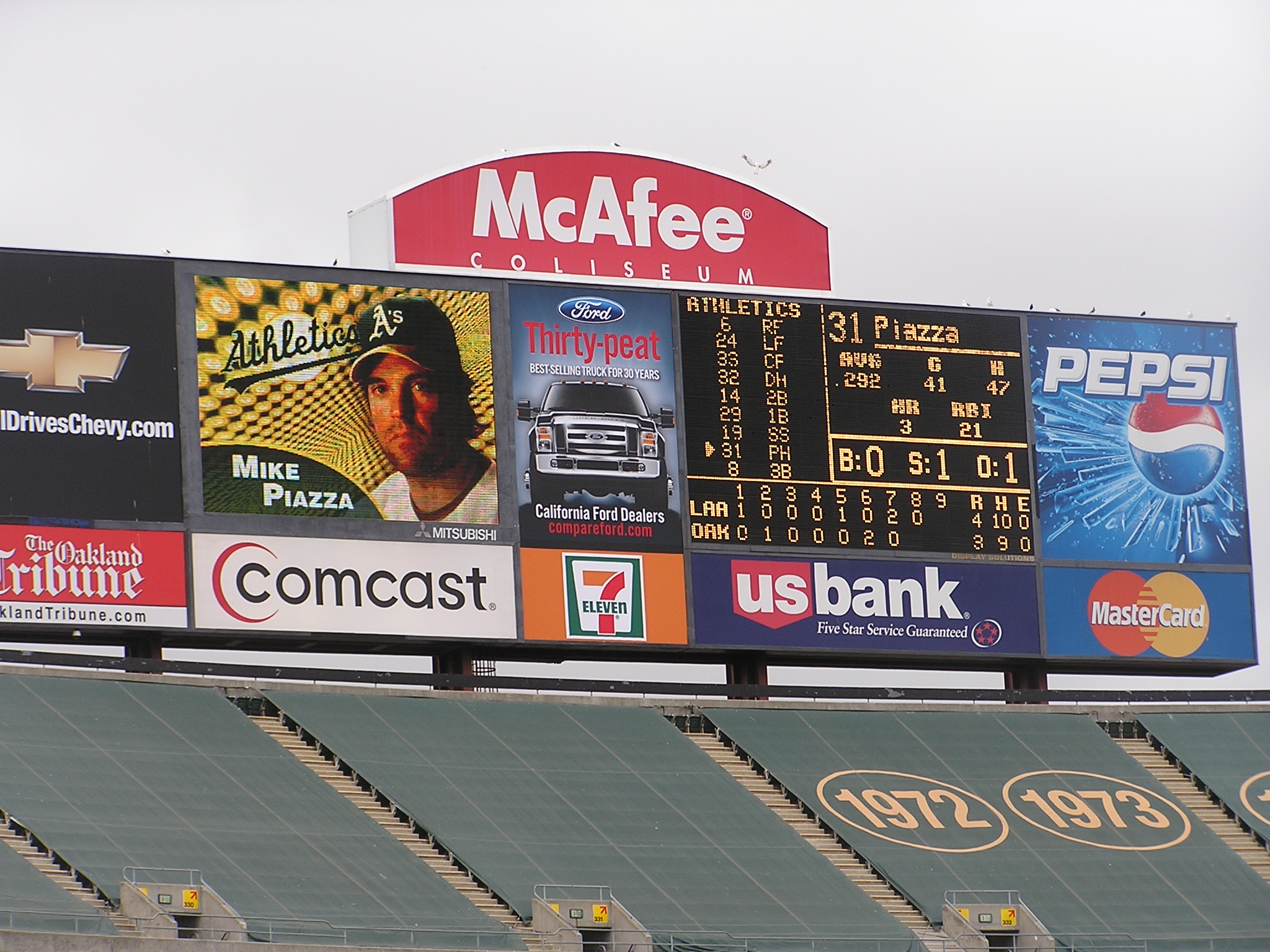 OF THE 32 PARKS I HAVE VISITED, I RATE OAKLAND 15 BEHIND U.S. CELLULAR FIELD BUT AHEAD OF RFK STADIUM IN WASHINGTON.

SOME OF THE THINGS THAT STAND OUT;

I LIKED THE STORAGE OF THE OUTFIELD SEATS IN THE PARKING LOT. (LOOK CLOSELY AT THE PARKING LOT PICTURE BELOW, THOSE ARE THE OUTFIELD SEATS IN THAT PICTURE.)

I REALLY LIKED THE IRISH PUB SITUATED BEHIND HOME PLATE. ONCE INSIDE,
YOU WOULD EVER BELIEVE YOU ARE AT A BALL GAME ONCE INSIDE THAT PUB.
EXCELLENT ATMOSPHERE!

THE PARKING LOT IS HORRENDOUS. I DON'T LIKE THE FACT I HAD TO PAY $15 TO PARK, BUT IF I HAVE TO PAY THAT, GIVE ME MORE THAN 1 EXIT. IT SEEMED EVERYONE HAS TO DRIVE TOWARDS AN EXIT WHICH FEEDS YOU ONTO A LOCAL STREET AND THEN PUTS YOU ON A FREEWAY WHICH IS GENERALLY FILLED WITH
TRAFFIC. CHECK OUT THE B.A.R.T. SCHEDULE, THEY HAVE A STOP RIGHT OUTSIDE THE COLISEUM.

A LOT OF REAL GOOD BASEBALL FANS HERE, SOMETHING I'VE NOTICED THROUGHOUT CALIFORNIA. OAKLAND HAS A LOT OF HISTORY WITH QUITE A FEW GREATS MAKING THIS A LITTLE MORE THAN JUST A PILE OF CEMENT. BECAUSE FROM THE OUTSIDE, THE COLISEUM LOOKS LIKE NOTHING MORE THAN A LARGE CONCRETE STADIUM.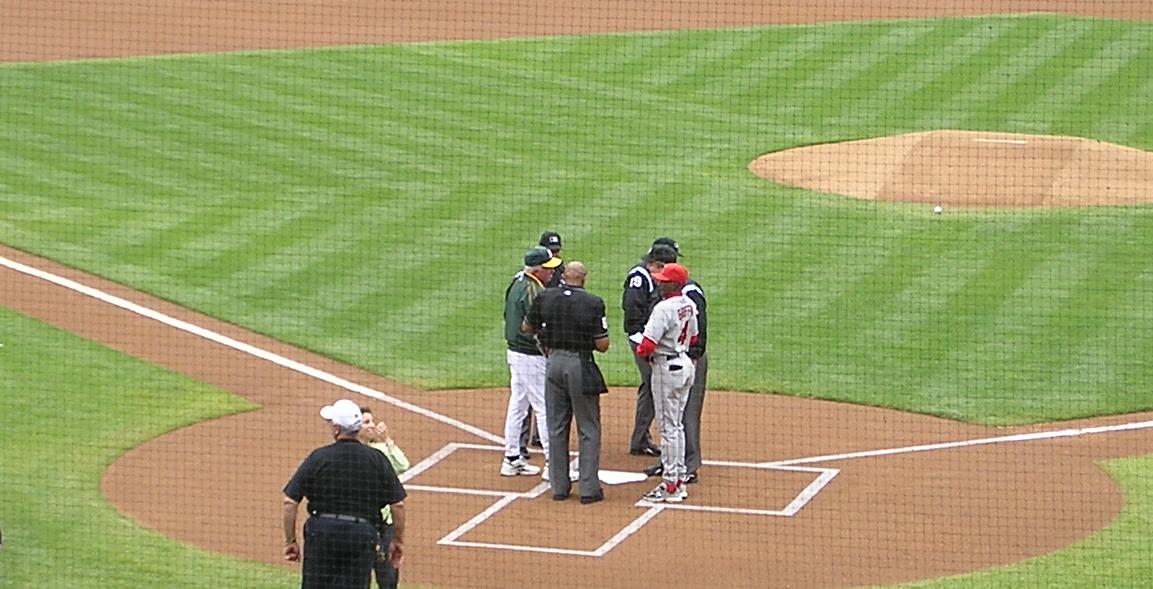 THE LINE UPS
LOS ANGELES ANGELS OF ANAHEIM MANAGER ::::
14 Mike Scioscia
OAKLAND A'S MANAGER :::
53 Bob Geren
LOS ANGELES ANGELS of ANAHEIM
9 Chone Figgins 3b
18 Orlando Cabrera ss
27 Vladimir Guererro rf
16 Garret Anderson lf
24 Gary Matthews Jr. cf
35 Casey Kotchman 1b
6 Meicer Izturis 2b
39 Robb Quinlan dh
5 Jeff Mathis c
41 John Lackey p / WP
57 Francisco Rodriguez S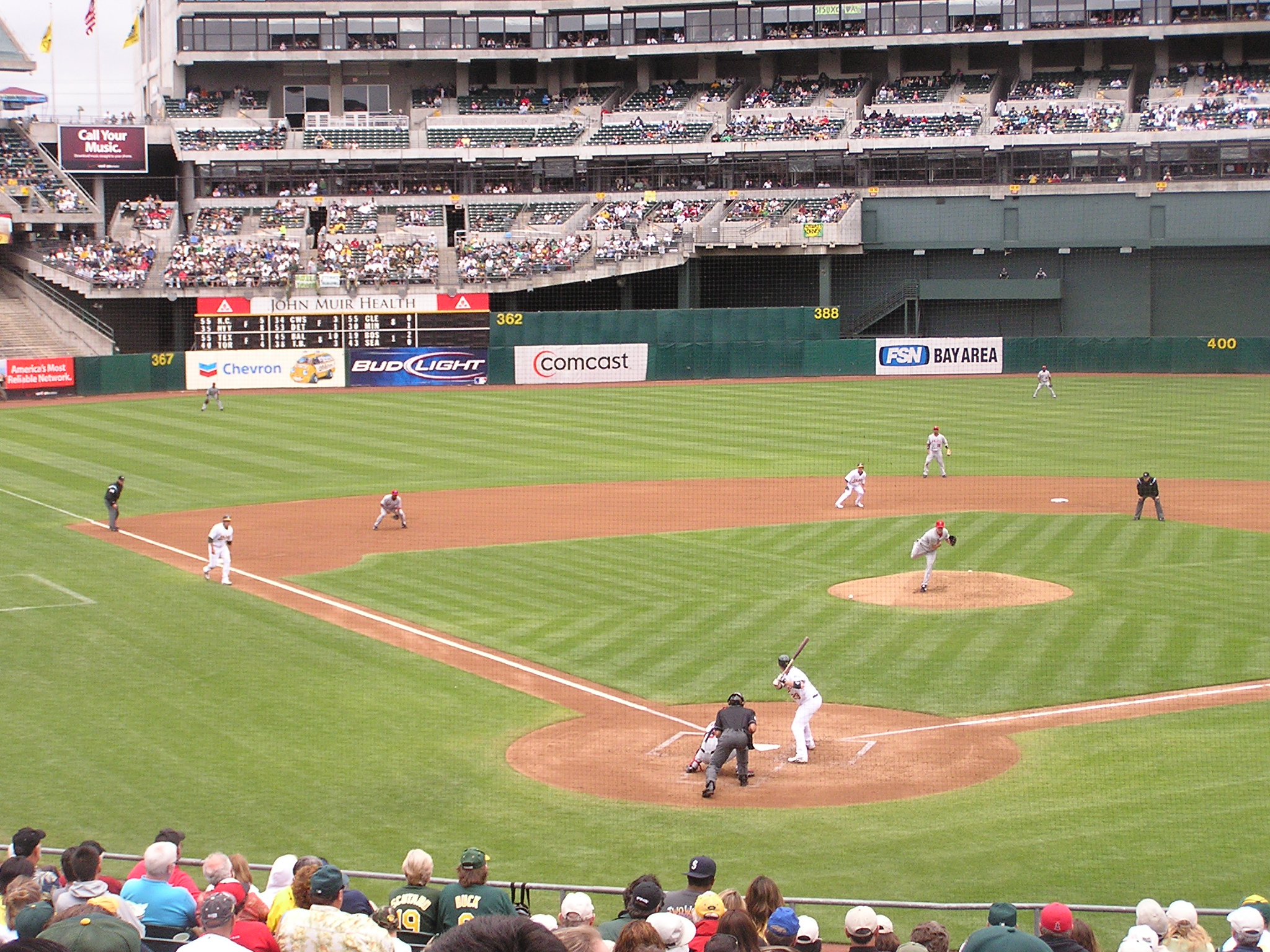 OAKLAND A's
6 Travis Buck rf
24 Shannon Stewart lf
33 Nick Swisher cf
32 Jack Cust dh
14 Mark Ellis 2b
29 Dan Johnson 1b
19 Marco Scutaro ss
28 Kurt Suzuki c
8 JJ Furmaniak 3b
15 Dan Haren p
50 Kiko Colero LP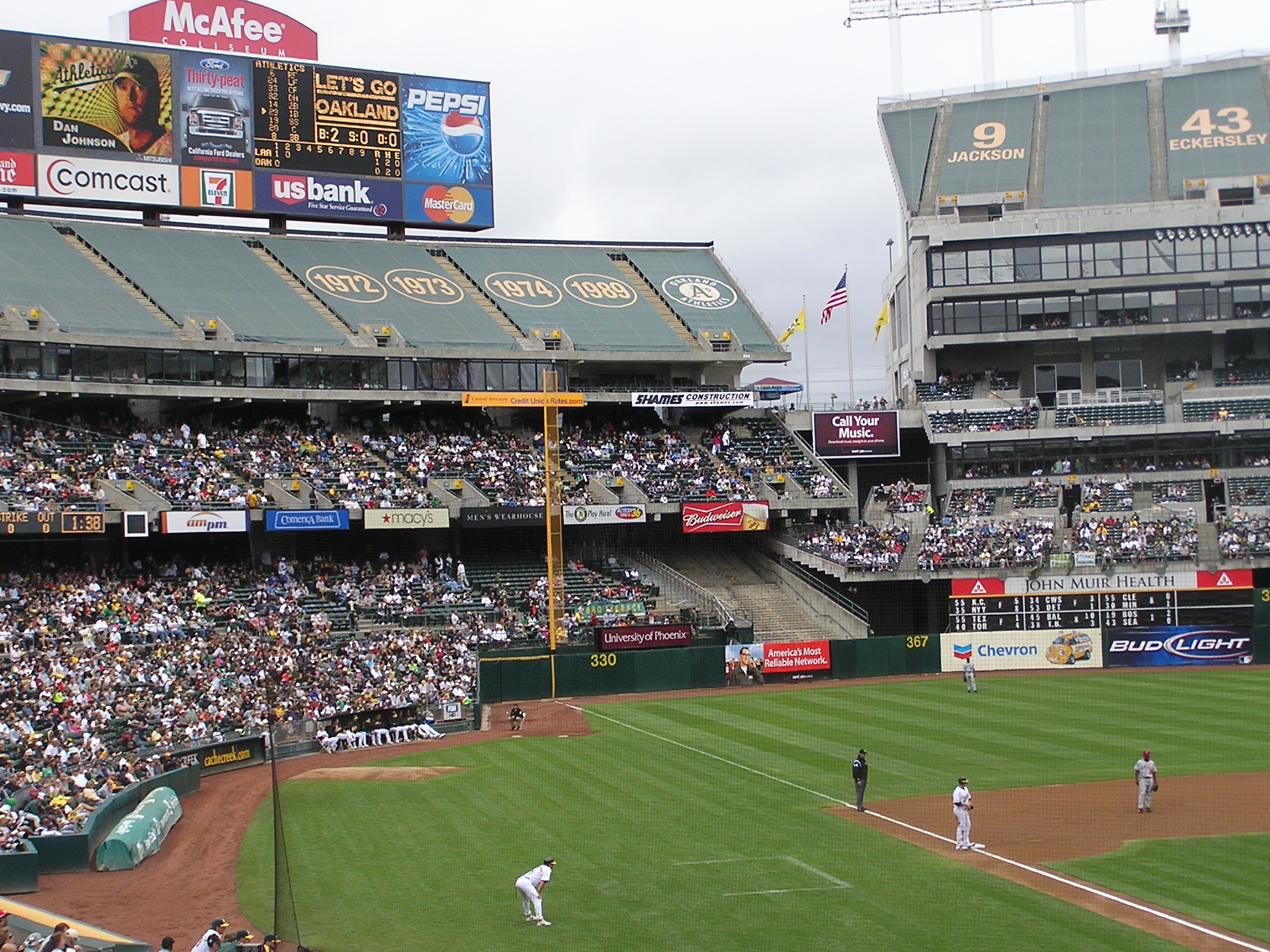 LA ANGELS 100 010 200 4 10 0
ATHLETICS 010 002 000 3 9 0
TIME ::: 2:58
ATTENDANCE ::: 26,782
WEATHER ::: 65 COLD DAMP
SEND ME AN E-MAIL

LINKS
The Official site of the Oakland A's
The Official site of the Oracle Arena and McAfee Coliseum
The B.A.R.T. System - There is a stop at the Ballpark
Jack London Square < Dining & Entertainment in Oakland>
From Oakland - The Tower of Power web site
Oakland weather from WEATHER.com
© 2000-2012 UNCLE BOB'S BALLPARKS I AM IN NO WAY AFFILIATED WITH ANY OF THE TEAMS ON THIS PAGE ... THIS PAGE IS MEANT FOR INFORMATION PURPOSES ONLY.